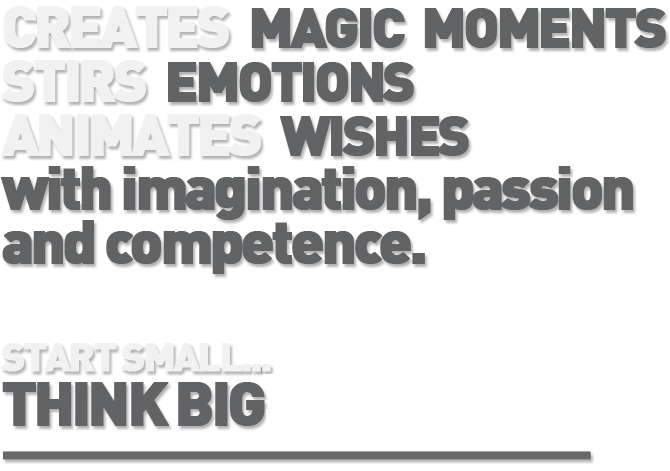 "We are a small company,
but we can reserve big surprises for your events.
Our young and dynamic team, draws on the competence
of professionals coming from the world of events with years
of experience and know-how "
Daniele Cavallini, CEO and soul of D-Lab Eventi
We pay particular attention to the Brand and Image of our customers.
YOUR SUCCESS IS OUR GOAL.
QUALITY, TIMING AND COSTS ARE A MUST FOR US.
Starting from an idea, however small, we develop a plan paying great attention to every detail responding to all critical points positively.
Our great experience and skills in this field enable us to create events which fascinate, entertain, excite and  which always manage to amaze.
"The event is as important in communication
as animation is in entertainment "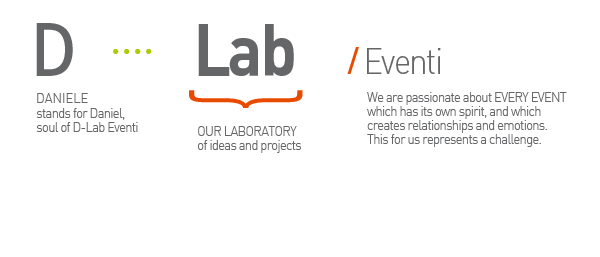 We organize small and large events, from the planning to the complete realization of a unique moment.
events
Business meeting
Cultural and touristic events
Cookery lessons, confectionary
and pastry classes
Parties
entertainment
Touristic villages
Celebrations and anniversaries
WEDDING PLANNER
Study and planning of every detail to
prepare the ceremony
Traditional weddings, original weddings,
environmentally sustainable and
supportive weddings
Exhibitions and fairs
Design and implementation of stands
Organization of events related to
exhibitions and trade fairs
Organization :
Secretariat
Development and budget planning
Mailing list
Printing of communication materials
Creation of branded gadgets, gifts,
bonbonnières and free gifts
Contacts with hotels, cultural and commercial
structures, and also non-profit associations
and fairs
Welcome and hospitality of guests
Programming and management of tours
during conferences
Selection :
Catering specialized also in local and
biological food products, exploiting
sustainable opportunities
Interpreters and translators with specific
expertise in various fields
Service firms
Staff chosen specifically for each event
such as : entertainers, photographers,
choreographers, hostesses, stewards,
tour guides, dee jays, bands
Coordination :
Analysis of goals and design projects
Search for locations and setting of programs
Coordination of work teams and problem
solving
Graphics and logistics :
Design coordinated graphic line
Planning and design of stands
Setting and printing of invitations, programs,
boards, banners and panels
Organization to fit out spaces in different
locations and fairs
Floral decorations
Equipment for audio, video, lighting and
simultaneous translation
This is a selection of photos of our events, if you would like to see more pictures please proceed by clicking on the album published for each event on facebook.

Warning: file_get_contents(https://graph.facebook.com/fql?q=SELECT+images+FROM+photo+WHERE+album_object_id=767262699993155+LIMIT+20&access_token=254300404649213|I8qWrexDu-yjIh3tmNjr5QVvgkg) [function.file-get-contents]: failed to open stream: HTTP request failed! HTTP/1.1 403 Forbidden in /home/dlabeven/www/eng.php on line 208

Fatal error: Call to undefined function: json_decode() in /home/dlabeven/www/eng.php on line 209